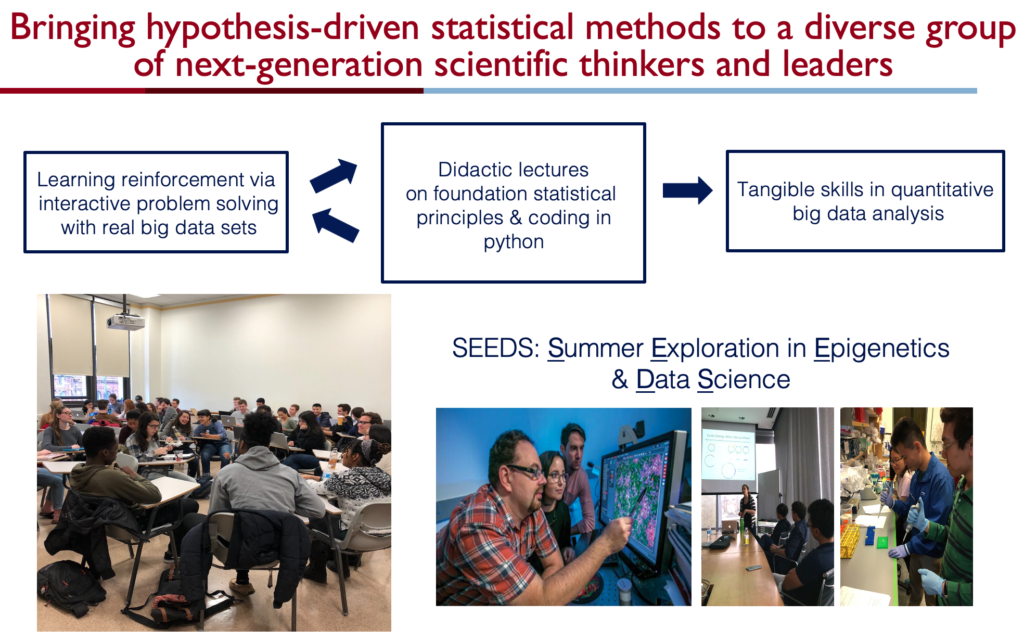 The Cremins lab's outreach goals are to train and empower a diverse, next-generation group of scientific leaders to find biologically meaningful and statistically rigorous patterns in high-dimensional spatial epigenetics data by integrating cutting edge computational and experimental approaches.
To achieve this goal, we have pursued depth in three purposeful outreach activities:
Create an intensive, multi-year interdisciplinary training program, SEEDS (Summer Exploration in Epigenetics and Data Science), for undergraduate students in big data generation and analysis. The SEEDS program offers 4-5 undergraduate students specifically from under-represented communities in science a four-year sequence of summer bootcamp training modules in first principles of statistics, computer science, molecular biology, and epigenetics. Students apply their knowledge to a hypothesis-driven research question in spatial neuroepigenetics, each year growing in mastery over their combination wet/dry lab project, culminating in paper submission and poster presentation at a scientific conference.
Actively partner with Penn's underrepresented minority groups to identify students from historically disadvantaged socio-economic backgrounds with a strong interest in science. Through the SEEDS program, we intentionally provide students a network of mentors and depth/breadth of training to build confidence and long-term interest in long-term research careers.
Develop new undergraduate and graduate Structured Active In-class Learning (SAIL)-based courses to equip students with fundamental concepts in probability, statistics, and coding to find patterns in spatial epigenetics data sets. Students will learn statistical principles by solving biomedical research problems with real-world genomics big data. Dr. Cremins has designed and taught undergraduate (EM375) and graduate (BE504) courses focused on this goal since 2014 at Penn, exemplifying in word and deed for the engineering community that women raised in economically disadvantaged background can excel and thrive in computationally-intensive quantitative scientific disciplines over the long-term.
To enhance the broader impacts of our outreach, we commit to remain mentors for life to each individual in our SEEDs program. We also intend to disseminate the SEEDS program concept and the SAIL learning modules to the scientific community through talks at conferences, for example – NYU's Inspire Science Symposium, and freely sharing all polished materials online. All four inaugural members of our pilot SEEDs program went on to enroll in PhD (MIT), MD-PhD (UPenn, Mayo Clinic), and MD (Ohio State) programs. All four SEEDs alumni published middle- or first-author papers with our lab.